>
Home
>
Classes
6th - 8th Grades - Ancil Samuel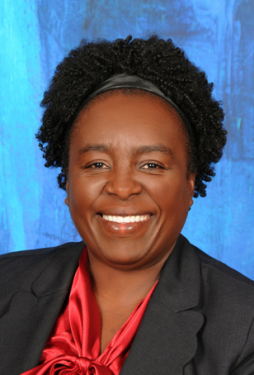 Mrs. Samuel joined the OACS staff in July of 2010.  She has been teaching for the past 27 years.  Twenty five years in SDA institutions and 2 years in public.  She has taught in St. Vincent and the Grenadines – her homeland, St. Thomas USVI, New York and Florida- USA. 
Mrs. Samuel is married to her childhood friend, Cordel Samuel, together they have two children: Larnell a Junior at Forest Lake Academy and Charel an eighth grader at OACS.  Her hobbies are singing, travelling and cooking.  Mrs. Samuel earned a Bachelor's degree in History and English and a Master's degree in Educational Administration from Andrews University, Berrien Springs, Michigan, and holds a professional teacher certification certificate from the Southern Union.
At OACS she teaches all subjects in the 6th to 8th grade classroom.  She states that it is an honor for her to serve as a multi-grade teacher with the task of leading students to Christ.   Her class consists of 9 - 6th graders, 4 - 7th graders and 4 - 8th graders. This year her theme for her class is "Soaring with Jesus".  Her belief is that "the success of each child is determined by student buy in, her commitment to God and to them and parent participation".  Her aim is to be a witness to the families that God place in her sphere of influence – ensuring that each child grows spiritually, emotionally, socially, academically and physically.
Although many are skeptical about placing their child in the multi-grade classroom, she is passionate about the opportunity to serve in a multi-grade classroom.  Here are a few advantages of placing your child in a Christian multi-grade classroom she would like to share with you:
The mix in ages and abilities provide optimum opportunities for student collaboration as older students serve as role models – in choir, chapel services, academics and robotics.
Flexibility in grouping transcends range of ages and abilities and can benefit students who are working below grade level.
Students are exposed to re-teaching, which reinforces and clarifies their understanding of the topic even if they are advanced.
Students are exposed to pre-teaching, students in the lower grades listen in on lessons and discussions the teacher may have with the older students – this prepares and stimulates younger students.
The learning and social atmosphere is cooperative rather than competitive – since the abilities are not equal.  The older cater to the younger, while the younger admire the older.
Age segregation is not modelled, the older assist the younger.  The opportunity is given for peer tutoring.  During reading rotations – students are able to teach the younger, this helps them to clarify their learning and build their self-esteem.
Being with the same teacher increases trust between students, parents, and teachers.  This creates an environment of safety where students can let down their guard and learn.
By the second year with the child, the teacher can identify learning styles, build upon strengths and work on improving weak areas observed the year before.
Having the same teacher also brings stability and can increase emotional stability for children who were bullied in previous environments.
Her message to parents is clear the multi-grade classroom is a natural extension of home life and life in the "real world." Very rarely in the world do people work solely with others of the same age and ability.  Come to OACS – join our middle school classroom.  God's love awaits you and your child.